Home » Social media
A new Twitter client for your Mac called Nambu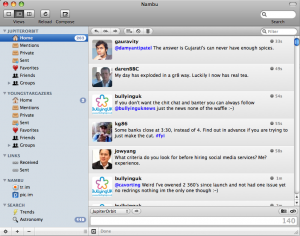 Nambu is the name of new Twitter client recently released in beta form to the public that's specifically for the Mac user community. It only runs on Mac OS-X and doesn't yet have a Windows version. It's also the first Mac based Twitter client I've used that's not Adobe AIR or web based. It's a native Mac OS-X application and as such looks very familiar and bears a striking resemblance to the Mac finder window. Nambu Touch for the iPhone also exists, although it too is in beta.
As an aside, Nambu is a Japanese surname and is also the name given to the semi-automatic pistol used by the Japanese Imperial Army and Navy during world war one and two but I'm not sure if that means Nambu, the software, has Japanese origins. Maybe it does, maybe it doesn't, but I thought it was an interesting anecdote to mention non-the-less.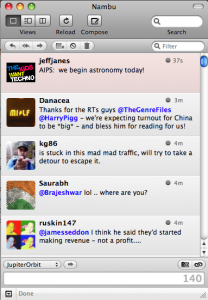 The first thing that strikes me about Nambu is how familiar it feels. Thinking about it longer, there are two aspects of it that give it that familiarity. Firstly, it resembles TweetDeck is some ways and differs to TweetDeck in many other ways. The multi-column nature of TweetDeck is something you can also achieve in Nambu and it's ability to search for phrases and then monitor them in a column is also similar to TweekDeck. The other aspect is that Nambu that makes it feel so familiar that it run as a native Mac OS-X application. When you open the application for first time, you see a window that looks not too dissimilar to the Mac OS-X finder. In fact, if you were to change the view to the "sidebar view", the window would look even more similar to Mac OS-X finder. Using the sidebar, you can access a number of things which include the ability to view your messages, all messages where you have been mentioned, private messages, sent message, favourite messages, friends and groups. The side bar also gives you access to a while host of other functions which we'll come to shortly.
For me, the stand-out features in Nambu include:
The ability to login to multiple Twitter accounts at once. You can access those accounts from the side bar.
The ability to display a list of common search phrases on the side bar for easy access.
The very useful and nifty ability to list out all the URLs you've ever sent out in your Tweets and all the URLs that have ever been mentioned in Tweets by your friends to you.
By far my favourite feature of Nambu is the ability to display threaded conversations. Lets say someone replies to your tweet with an @ message and then you @ message back to them and then some else @ messages back to you both, this whole thread will be displayed in a hierarchical manner. VERY powerful.
The interface feels intuitive due to the well designed Mac OS-X integration and the flexibility with which you can control the layout of Nambu's UI is a power feature that will really enable the user to set up Nambu exactly the way they want to view it. Being able to login to multiple account is not unique to Nambu and the ability to save search phrases for future use and monitoring is also nothing too ground breaking but when you package this all together in to a well laid out OS-X application then Nambu really starts to shine. This is not the whole story, however….
The beta version of Nambu points to some interesting future integration which will really broaden the appeal of Nambu within the power user community. In an up and coming beta release, Nambu will have the ability to integrate with FriendFeed, identi.ca and ping.fm. This is something you can already do with Twhirl so it's nothing immensely new, but it will help to broaden Nambu's appeal. Ping.fm is a particularly useful service to integrate with. I use this service a lot to relay my Tweets out to multiple other web services, so that when I tweet a message it gets displayed in my FriendFeed, LinkedIn status, Facebook Status and a number of other statuses on a bunch of other web sites. This isn't something that everyone will want to do, especially those who generally use Twitter to have social conversations, but there are many, especially companies, who use Twitter to send out marketing messages and engage with customers so the ability to publish once (via Twitter) and broadcast to many places (via ping.fm) is a welcome strength of Nambu.
One of the other other very handy functions in Nambu is that it will tell you how many messages you have unread, and as you scroll through them, it will automatically reduce your unread count, because it assumes the action of scrolling down the window of incoming Tweets is the same as actually reading the messages. This works well if you're not too scroll-happy with your mouse pointer. However, if it annoys you, you can always turn this feature off in the configs.
One other feature which I think will start to make Nambu even faster and intuitive to use is its ability to set up user configurable keyboard short cuts to do almost anything and everything within the application.
For me, one of the big bones of contention in almost every Twitter client I have used is that once you have grown a sizable list of followers and people you are following, it start to get very difficult to find a particular person. Here is were Nambu offers two very nice features to help you out. First, the basic search function is very good in the way it displays search results. The results are conveyed in a visual manner that makes it easy for your eye to zero in on the person you're trying to find. However, what's more powerful, in my opinion, is the ability to organise your friends in to groups. By default, Nambu comes with three groups pre-defined which includes friends, family and business. You can create any number of groups and then start to add your Twitter contacts in to those groups. From then on, their messages will automatically start getting filtered in to these groups. It's not too dissimilar to an email filter. For example, I've created new groups for "Breaking News" and "Social Media" and in to them I've placed people who regularly Tweet about breaking news from around the world and those who comment about Social networking respectively. I've started to find this feature extremely powerful and it helps me filter out the noise.
I'll be following the developments of Nambu very closely and I look forward to its next release. If you're on a Mac, this Twitter client, even though it's still in beta release, and with a few rough edges, already provides a compelling alternative to the other Twitter clients out there.
Note that after writing this review, Nambu 1.1.8 was release with numerous improvements and bug fixes, so make sure you have downloaded the latest version from their web site.